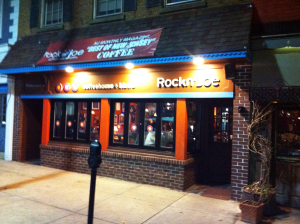 I'm still in New Jersey, and I've finished my client visit here. After dinner, I packed up my things – ready to head to the airport in the morning for the flight back to Indy. Since I didn't get there last night, I decided to head to Rockn' Joe's – my favorite coffee shop across the street – the place where they play 60's rock n' roll, and the walls are lined with memorabilia of all the great bands from more than 40 years ago. I had it all planned out.
I got back from dinner, packed and then had a nice talk with my father -in-law. Sometimes, especially when I am out on the road, I give him a call just to touch base. Nothing in particular, just conversation. My own Dad died when I was twenty five, back in 1978, so Janet's father, John, is the closest thing I have to my own father. And, like Janet, he has known me since I was a little kid. I even remember when he used to pay me a dollar to cut his grass; he was one of the first lawn jobs I had when I was growing up. It is comforting to be able to connect with somebody who has known you practically your whole life – somebody who will listen even when they have other things to do.
So after our conversation, I put on my coat – the temperature is dropping here – and headed across the street, computer in hand. I have been burning the midnight oil for the last several nights and was in a mood to just kick back and relax, write this post with a little music in the background and head to bed early this evening. After all, I can let down now; my work is over and I am going home. And then it happened….
Somebody called me by name. You must be kidding! I'm in the middle of New Jersey, ready to kick back and order my coffee, all amped up about writing early and getting a good night's sleep. I looked up, and recognized a face I have not seen in several years. A local here, he is a former senior level executive who lost his job six years ago this May. I've offered help to him in the past, a sincere effort to reach out to him, but tonight I had other plans. To be honest, I was conflicted; it was good to see him, but I was on a mission and did not want to deviate from my plan. One look into his eyes and it was obvious that he needed to talk; and even more, he needed someone to listen.
I've experienced this before. I've devoted the last 29 years of my life to assisting people in career transition, and the man in front of me was suffering and scared. He put on a good front, but there was no denying it; the humor to avoid the real truth, the embarrassment of being out of work so long, the financial strain of scrambling to pay the mortgage, borrowing to pay the other bills and, finally, the realization that his marriage was quite possibly over.
The next hour and a half was a blessing to me. The music seemed to fade into the background and I know it must sound strange, but I was honored that he stopped by and spoke. He was, and is, a great guy who has lost his confidence and just doesn't know which way to turn. Who among us has not been in the same place? He's not spiritual, but that didn't stop me from sharing my thoughts with him. You never know when God will decide to touch someone's heart with the Good News of His love for us.
We finally finished our talk, and made plans to meet again on my next visit here. As I headed back to my room, I was reminded of Isaiah 55:8-9, "For my thoughts are not your thoughts, neither are your ways my ways," declares the LORD. "As the heavens are higher than the earth, so are my ways higher than your ways and my thoughts than your thoughts". What a reminder! You know, I aspire to God's ways, but I always seem to default to what I want to do. Thankfully, tonight, I listened to God and was blessed by the experience – and that is usually the case.
So my encouragement to you today is this: somebody out there needs you to put your life on hold, for a few minutes, and listen to them. My prayer is that, with God's gentle nudge, you will recognize your chance to be Christ's emissary today. Even if you happen to be in a hurry, try to slow down – even better, stop – and give yourself a chance to be blessed by God. You never know when someone just needs to talk – just ask my father-in-law; several hours ago he was listening to me…..